Friends... Till The End
by Mark Kriegel
Anthony Weekes and Anthony McLean met June 8, 1985. It was their first day at the police academy. Weekes noticed the hint of an accent in McLean's voice.
"You Trini?" he asked.
"What's it to you?" McLean answered. He had already squared off for a fight.
"Well, my people are from Barbados," said Weekes. "We got something in common."
By the way, he told McLean, don't get so angry.
"We're gonna be partners," he said. "You wait and see."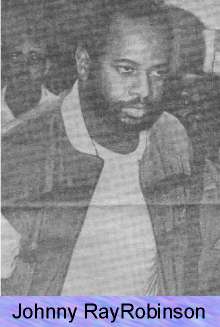 Once upon a time in the Van Dyke Houses, Johnny Ray Robinson lost a girl called Buzzy to one Hilbert McKinley. His nickname was Spoon. Johnny wasn't too happy about the romance. He blew away Spoon with a shotgun. It was 1979.
Until then, Johnny Ray was a small-time guy who hung around with a small-time crew called the Tomahawks. But in prison, Johnny Ray made a friend for life. He was also from Brooklyn, also reared in a project, the Howard Houses. His name was Victor Breland and he had been sent away for armed robbery.
It was a meeting of the minds, say men who've arrested them both - "two strong, vicious animals."
Johnny Ray Robinson was convicted for the murder of Housing Police Officer Anthony McLean four days ago. Like the murder of Officer Edward Byrne, McLean's killing is a story of drugs and money and a gang that ruled its turf like a reincarnation of Murder Inc. But McLean never became a symbol. Presidents did not flash his badge. Neither reporters nor police brass flocked to the courtroom. More court officers than cops stood in attendance.
What emerged from the trial is a tragic tale of two friendships: high and low, good and bad, one forged at the police academy, the other in the penitentiary.
Johnny Ray faces life in prison. But Tony Weekes has already begun his sentence: a lifetime of grief, wondering about the fate that took his friend instead of him.
"I never had a friend like Tony," says Weekes. "It was like we knew each other all our lives."
At the academy, cops-to-be are given a "dream sheet" to list possible assignments in order of preference. McLean asked Weekes what sector he was putting down.
"You might as well put down PSA 2," Weekes told McLean, referring to the Housing sector that includes so much of Brooklyn's underbelly. "That's where we're going."
"Tony looked at me like I was crazy. Just shook his head. But I had a feeling."
After graduation, Weekes recalls, the two rookies drove back to Brooklyn. They spoke of their impending assignments.
"Where you going?" asked Weekes.
"Where the hell do you think?"
Before long, the pair of rookie cops in PSA 2 were known as the Two Tonys. In tandem, Anthony Weekes and Anthony McLean patrolled Brooklyn's most notorious housing projects - Tilden, Brownsville, Van Dyke, Cypress Hills. They wrote tickets. They went on gun runs. They became accustomed to the sound of gunshots, automatic and single fire, which, as Weekes testified, is heard "in Brownsville every day."
"We found a lot of missing kids, too," Weekes recalls.
After their tours the partners would head for the Galaxy Diner at Pennsylvania Ave. and Linden Blvd. and talk. They talked for hours - about women, the job, cars, plans and again about women.
"We were both single back then," he says, with a smile.
By 1988 Johnny and Victor were back on the streets, blessed with good fortune. Johnny had walked on a murder rap after a prosecution witness became forgetful on the witness stand. And Victor had become an enforcer for the Baby Sam crack gang, named for its leader, Sam Edmonson, according to the district attorney.
The gang raked in at least $6 million a year selling cocaine, mostly crack, in Brownsville, East New York, and Bed-Stuy. And it left a lot of dead bodies behind.
Victor Breland, being the good friend he was, brought in Johnny. Johnny, in turn, enlisted his old crew, the Tomahawks. They were responsible, sources said, for the crack concessions on their old stomping grounds: Sutter and Rockaway Aves., Clifton Place and Nostrand Ave. Each morning, according to informants, Johnny Ray would bring the night's take to Victor's apartment on Pennsylvania Ave.
There was a lot of money to be counted.
The ELDEST of five sons, Tony McLean, attended Erasmus Hall High School, became a Green Beret and then a housing cop.
"I tried to discourage him but Tony didn't listen," says his father, Oswald, a Housing Authority clerk, who left Trinidad in 1972 for a better life in East Flatbush.
"In the Army Tony was one of those crazy guys who had nothing better to do than jump out of perfectly good airplanes," says Weekes.
During his brief career McLean earned four citations for meritorious duty. Whether it was taking a .357 magnum off a suspect or finding a missing child, McLean was heavy with duty and discipline.
"Spit and polish all the way," remembers another colleague, Officer Joe Braithwaite.
It's a tough business, drugs. Johnny Ray and Victor had a beef with a competitor, who they thought owned the Glamourama Unisex Beauty Salon on Franklin Ave. So on the afternoon of March 31, 1988, they entered the Glamourama blasting away with 9-mm pistols, police say. Before they were down, the beauty parlor owner and a hair stylist lay dead.
Johnny and Victor had hired a 17-year-old kid from East New York for the job, sources say. He was to lob Molotov cocktails into the beauty parlor to cover the killers' tracks. But the gunmen were in such a bloodlust they fired on the teenager, too, wounding him before he could unleash his cache of firebombs, say law enforcement sources.
"Johnny and Victor were like that," says one investigator.
The two Tonys saw swift and terrible changes during their tour of duty. Drug dealers, the phrase goes, "were firing on the uniform."
"Since I've been on the job it's a totally different city. Crack is the ruler," Weekes said.
Brownsville being what it is, Weekes said, "we talked about it, you know, what we would do if it happened. Tony had two requests. He said if I'm breathing take me to Kings County. If I'm not, anywhere will do.
The other thing was he wanted me to stand honor guard at his wake."
But as bad as the streets were, that's how good things were for the two Tonys. Weekes had taken a wife, also a housing cop, and bought a house in Brooklyn. The two cops were going to buy a boat.
McLean, 27, became engaged to Nadine Baptiste, a correction officer. They were to be married the last Saturday in June. The couple had purchased a house in Queens.
"My son was happy. He was fixing up the house," remembers the father. "He was in love."
Johnny Ray and Victor were also having the time of their lives. The money was rolling in. The cops weren't yet onto them. And Johnny's girlfriend, Veronica Rivera of the Van Dyke Houses, was pregnant with his son. When her belly swelled, it was Victor, in his gray BMW, who drove the couple to Lamaze class.
The two Tonys received the order shortly after midnight, April 13, 1988. They were to find a 10-year-old girl reported missing in the Tilden Houses.
The partners split up on the roof of 340 Dumont Ave.
Tony Weekes took one staircase, Tony McLean took the other.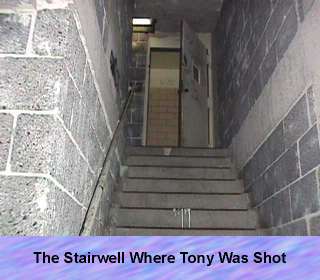 Every few flights, the cops tapped their nightsticks against the cinder-block walls, a signal that all was clear. Weekes reached the lobby without any trace of the little girl. Instead, he heard the light pop of automatic gunfire. Three shots. He heard McLean's nightstick tumble through the other stairwell.
Moments later McLean lay dying in his partner's arms. A 9-mm. bullet had severed his jugular vein. The officer's search unwittingly had interrupted the business of Johnny Ray Robinson, who was about to shoot Kevin Lowery, an underling who had pilfered $80 of the evening take. Another of the drug-dealing crew, Charles (Justice) Gary, had been there, too.
Weekes begged McLean to speak. But there were no words. There was eye contact but no breathing.
"We'll get you out of here," Weekes told his friend. "I'm not going to let you die."
Housing Police Officer Anthony McLean died before daylight, April 13, 1988, in the emergency room at Brookdale Hospital. Five hours later the little girl, Sheritta Johnson, was found at a friend's house. She had never been lost.
Veronica Rivera was eight months pregnant when her Johnny skipped town. The day after McLean's murder she got a collect call from her beau at her mother's house in the projects. It was after midnight.
"He asked me to get a pen and paper," Rivera testified. "He asked me to write down some names." The names included Charles Gary and Kevin Lowery. Rivera, 19, jotted down their names, their addresses, and the names of their brothers, sisters, mothers, stepfathers, 14 names in all. She wrote their ages, too.
Johnny said it was information that "would pay off in the long run."
The cops call it a hit list.
"I asked him did he kill a cop," Rivera testified. "He said, 'What the f--- did you ask me a question like that on the phone?"
Then he hung up.
Johnny called back about 7 that morning. The cops would eventually trace these calls from Philadelphia, where Johnny Ray Robinson was arrested after 33 days on the lam. "He asked me to write down his friend's number," she testified. She knew the friend was known as "V" or Vic, the good friend who took them to Lamaze class.
"He knows what to do with the list," she remembers Johnny saying.
Rivera dialed Victor Breland's beeper number. "I told him Johnny told me to call him to pick up something. He said he'd be there in 10 minutes," she testified.
Ten minutes later, Victor Breland was at the corner of Sutter and Rockaway Aves. in his gray BMW.
She gave him the list, neatly written on lined, loose-leaf notebook paper: "Johnny told me to give you this. He said you know what to do with it."
On April 20, police brought Victor Breland in for questioning. The cops said Breland gave them the keys to his apartment at 354 Pennsylvania Avenue, where they found the list, alongside some loose ammunition on a cocktail table.
Months later, after police were about to crack the Baby Sam ring, investigators interviewed Breland for two days. They offered him a cooperation agreement to rat out his business buddies. Victor seemed interested. But they also wanted him to rat out Johnny Ray for the killing of Officer Anthony McLean. And that was a problem.
"I'll never testify against Johnny," Victor is reported to have said.
"They were thick as brothers," said a well-placed source. "Victor wouldn't talk about Johnny at all. If we gave him a choice, Victor would have done Johnny's time."
Victor Breland, now charged with seven murders, put the cooperation agreement in his mouth and ate it.
For his own sanity, Anthony Weekes was advised not to stand by his friend's casket during the wake at the Woodward Funeral Home. He asked the sergeant to cut him a break. The sergeant said: "To hell with the brass."
Tony Weekes stood by the casket for as long as he could. He stood with a horrible discipline, the kind he learned from the Green Berets.1 "I made it through," he said. "I had to. I made a promise to my friend."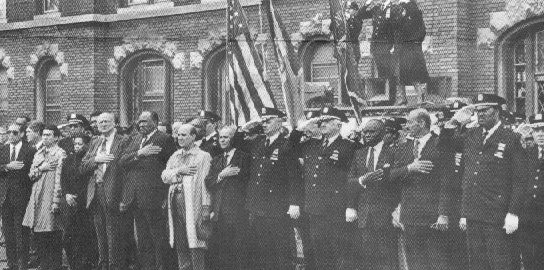 N.Y.C. dignitaries attending Tony McLean's funeral in Brooklyn (including then Mayor Koch and Police Commissioner Ward--fourth and fifth from the left.)
Note: Friends... Till The End originally appeared in the New York Daily News on October 8, 1989.
1This was an error by the author. Tony Weekes never served in the Green Berets. Tony McLean did.

HOME